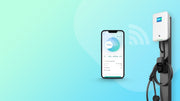 The Best Choice for Home EV Chargers: MC20 Series
At our company, we believe that electric vehicle charging should be accessible and affordable for everyone. That's why we're proud to offer our wall-mounted charger, which combines high-quality construction, user-friendly features and an unbeatable price.

One of the most important features of our wall-mounted charger is the ability to choose your own current size. Whether you need to charge your vehicle quickly or slowly, our charger can be configured to deliver between 6 amps and 32 amps. This gives you the flexibility to charge your vehicle in the way that best suits your needs.

Another important aspect of our wall-mounted charger is its output power. With a maximum output of 22 kW, this charger can fully charge your vehicle in just a few hours. This means you can spend less time waiting for your vehicle to charge and more time on the road.

Of course, we also put quality first. Our wall-mounted charger is built to last, with a rugged and durable construction that can withstand the rigors of daily use. And with a one-year warranty, you can be sure you're making a solid investment in your EV charging equipment.

But perhaps the best thing about our wall-mounted charger is that it's affordable. We believe that everyone should have access to a quality electric vehicle charging station, which is why we've priced our charger to be affordable for everyone. Whether you're a homeowner looking to charge your personal e-vehicle or a business owner looking to offer charging to your customers, our charger is the perfect solution.

So if you're looking for a reliable, high quality and affordable wall charger for your e-vehicle, you have come to the right place. We're sure you'll be thrilled with the performance and value of our product, and we look forward to helping you stay charged and ready to go.