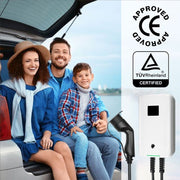 Why Choose Our MC20 Series?
Introducing our premium electric vehicle charging station that boasts a range of advanced features to make your charging experience easier and safer than ever before.
With a large LCD display and a 6.1-meter cable, our charging station allows you to easily see the charging status of your vehicle while it charges, providing you with real-time information on the current, voltage, and temperature of your battery. The display is securely screwed into the box, ensuring that it stays in place even in the roughest conditions.
Our charging station features Type A leakage protection, ensuring the safety of both you and your vehicle during charging. For those looking for even greater protection, upgrading to Type B leakage protection is simple and can be done with ease.
Our charging station is CE and RHOS certified, ensuring that it's of the highest quality and compatible with most IEC62196-2 compliant electric vehicles. Whether you have a Type1 or Type2 model, our charging station will work seamlessly with your vehicle. You can check the details page or contact our customer service for more information.
The main body of our charging station is made of high-quality aluminum alloy and the plate is made of PC alloy, ensuring that it's strong enough to withstand the weight of your vehicle. It's also rated IK 10 for protection, meaning that it's tough enough to withstand even the harshest conditions.
Our charging station operates at 230V with 6-32 A (single-phase operation) input voltage, providing you with up to 7.2KW AC output power (depending on input current). With its advanced features and high-quality materials, our charging station offers a powerful and reliable charging solution for your electric vehicle.