MOREC 3.6KW Switchable Current Portable EV Charging Station
MOREC, recharging the health of the planet! This is the most compact portable charger from MOREC and the most cost-effective control box. The maximum power is 3.6kw. Minimalist design, based on lightweight design, still supports...
Guaranteed safe checkout:
Orders ship within 24 Hours.
Hoorey ! This item ships free to the Europe.
MOREC, recharging the health of the planet!


This is the most compact portable charger from MOREC and the most cost-effective control box. The maximum power is 3.6kw. Minimalist design, based on lightweight design, still supports LCD display. The specially upgraded waterproof structure ensures use in various outdoor environments.
Suitable for all electric vehicles
Compact and easy to carry
Full-link temperature detection
Support TypeA+6mA
All products use environmentally friendly materials
Bigger LCD Display
Where do you ship from?
Depending on the country where the order is to be delivered and inventory of the item, we will ship it from our warehouse based in Germany or France.
How much shipping fee should I pay?
Free shipping to Austria, Belgium, Bulgaria, Croatia, Czechia, Denmark, Estonia, Finland, France, Germany, Hungary, Latvia, Lithuania, Luxembourg, Netherlands, Poland, Romania, Sweden, Slovakia and Slovenia.
As for other EU countries(Cyprus, Greece, Ireland, Italy, Malta, Portugal, Spain), we'll charge 5-12 euros depends on the delivery country and weight of the item. And NO freight insurance services.
Products on this store are currently only sold to EU countries
Freight insurance
(Customers choose whether to buy or not)
Buy shipping insurance and enjoy free returns within 30 days. Without shipping insurance, the return shipping will be borne by the customer.
Which carrier do you use?
Depending on the country where the order is to be delivered and inventory of the item, we will ship the order via DHL, GLS or UPS.
What would the delivery time be?
Order processing time will be 1-2 business days. Shipping time will be 4-8 business days. So most orders will arrive in 5-10 business days.
WARRANTY POLICY
Morec gives you the most perfect after-sales service, and the warranty we provide to our customers in no way affects the warranty provided by law. 
Warranty period: 24 months
Warranty start time: from the date of delivery of the product to the customer
WARRANTY COVERAGE:
Only for quality-related problems, man-made as well as damage brought by the outside world is not part of the scope.
All replacement products are not entitled to a new warranty period, which is consistent with the warranty period of the original defective item. That the warranty on the product is void after a full refund has been made.
The warranty is limited to orders purchased from this website and is not valid for items shipped from other Morec sales sites or platforms.
WARRANTY PROCESS:
The buyer must provide a valid proof of purchase, including an order number or sales invoice.
Visible proof describing the product defect, such as pictures, videos, is required.
Items may need to be returned for fault checking. 
Return address: Please apply for the return address after confirming with our after-sales customer service
PLEASE NOTE:
For faulty products requested to be returned, if the buyer returns the wrong product to Morec, or does not return the faulty product, the warranty we offer will be void.
RETURN AND REFUND POLICY
30 DAYS NO REASON RETURN FOR REFUND
Products may be returned for any reason within 30 days from the date of purchase for a full refund. Once the item is delivered to the warehouse at Please contact "service@morec-ev.com" in order to begin the refund process,refund takes about a week.
After 30 days, any return request for refund that is not for product quality issues will be refused.
RETURN REQUIREMENTS:
Returns must include all accessories, including instructions, hooks, etc.
Items must include the original packaging
If the item does not meet the above requirements, the return may be refused
REFUNDS:
For non-quality related warranties, shipping costs will be borne by the buyer
In the case of warranty related to quality issues, Morec will refund the cost of the product itself.
If it is the seller's fault, the shipping cost of the return will be borne by the seller
If the customer chooses the shipping insurance before purchase, the seller will bear the shipping cost of returning the product within 30 days.
Note:If there is a problem with the product you purchased, when applying for a refund, please ensure that the original packaging is intact and that the product-related accessories and instructions are not missing. If the buyer is unable to return the product, or if it is damaged or lost during the return process, the seller will have the right to refuse a full refund.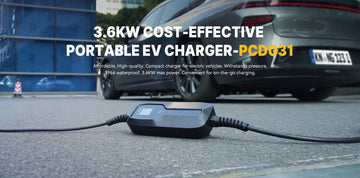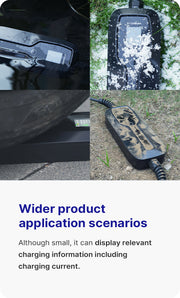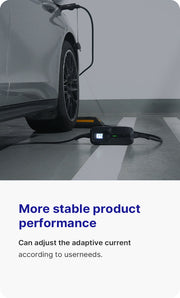 Compact and portable
PCD018 should be the smallest and lightest EV charger of the same quality currently on the market. Its original intention is to provide a truly portable EV charger that even girls can use easily.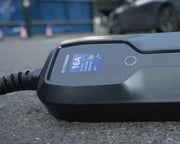 Micro indicator screen
Although small, it can display relevant charging information including charging current.
Current adjustable
The adaptive current can be adjusted according to user needs.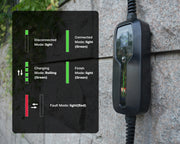 Charging indicator
Can display different colors according to different charging status.
We have 10 years of professional experience
MOREC has been committed to providing users with a better EV charging experience from the very beginning. Over the past decade, we have accumulated a large amount of feedback from around the world and continuously improved our technology and iterated our products based on the received feedback. This is why MOREC's products have better adaptability and more stable charging performance.
We use more environmentally friendly and higher quality materials
MOREC is very strict in the selection of product materials. Being more environmentally friendly, heat-resistant, and aging-resistant are our principles for material selection. MOREC's products generally weigh slightly more than other similar products, based on our insistence on material quality. In fact, we are one of the earliest suppliers globally to use TPU cables instead of PVC or TPE.
We have fast logistics and a comprehensive after-sales system
MOREC collaborates with multiple logistics centers, establishing local stocks in key market areas, allowing us to deliver goods to customers more quickly. At the same time, our comprehensive after-sales system provides support in multiple languages, including German, French, English, and Spanish, ensuring an excellent shopping experience for our customers.
We focus on the EV charging field
MOREC exclusively focuses on providing better EV charging products. Our 10 years of experience is entirely dedicated to this field, which is why MOREC has a deeper understanding of EV charging. We have introduced many related concepts, including plug temperature detection and automatic identification of adapter connectors. Additionally, based on our understanding of product safety, we are also one of the earliest suppliers globally to equip devices with Type A+6mA DC safety protection modules.
External Package Carton
About Packaging
we pursue that all materials used by MOREC contribute toenvironmental protection.The product uses environmentallyfriendly packaging materials, and its production process alsofollows environmental requirements.
Package Dimension 40*38*8cm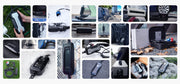 It's ok.
Easy to order
Delivery : ok
Easy to use
Conclusion : it's ok. 👍
Thank you for your review, I wish you a happy life!
Produit de qualité. Très satisfait
Aussitôt reçu aussitôt testé sur la i3 de mon amie. La voiture au tableau de bord et le simulateur de charge «automobile-propre.com » annonçaient 4h15 en 3,7 kW (16A), pour passer de 75% à 100%, la charge s'est réalisée en seulement 3h45. Le chargeur d'origine BMW en 10A livré avec la voiture mettait exactement le double de temps pour la même charge…
Au regard des avis positifs sur ce modèle et sur ce fournisseur, je me suis orienté sur ce modèle. Très satisfait donc de ce modèle qui est très performant et visuellement de qualité. Livraison rapide et emballage soigné. Je recommande.
Fait le job
Excellent chargeur pour une bmw x5 hybride
Rien à dire. NICKEL
Bonjour
A la recherche d'un chargeur domestique pour un enyaq rien à dire.
Fonctionne nickel. Prix imbattable et livraison au top.
Reçu en 2 jours après commande. Sachant que skoda me vendait un équivalent pour 690€....
Je recommande!👏👏
Great product
This product is exactly how you would become any product. Very well packed, quick delivery, durable quality, beautiful and most important, self explaining use without questions and efficient and informative functionality. It is a pleasure to recharge our Renault Zoe every second night very easily with our domestic 230V network. I am positively impressed by this Chinese high end product!